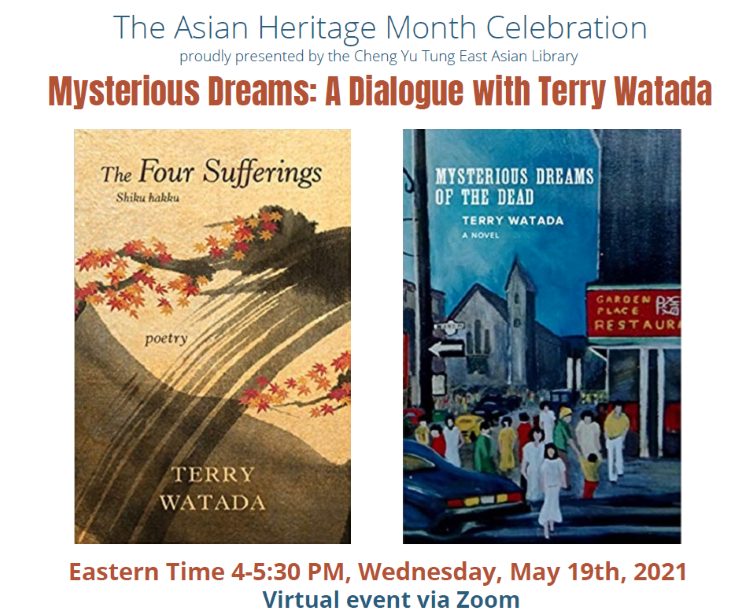 The Asian Heritage Month Celebration
The Cheng Yu Tung East Asian Library, University of Toronto, would like to cordially invite you to join this online event to mark the 2021 Asian Heritage Month and celebrate two new books by Terry Watada. The event will feature a book reading by Terry and a dialogue led by Ken Noma, former President of the National Association of Japanese Canadians (NAJC). Pre-registration is required to get the event link.
Watch a recording of the event on YouTube.
MYSTERIOUS DREAMS: A DIALOGUE WITH TERRY WATADA
An Online Event to Celebrate the Asian Heritage Month
Wednesday, May 19, 2021 at 4:00 - 5:30pm EST
Presented by the Cheng Yu Tung East Asian Library
Register for free tickets: https://utoronto.zoom.us/meeting/register/tZEud-uoqD4sEtRHyDx9jcgLk5Z-EOPHoRte
Writer Bio:
Terry Watada is a Toronto writer with many publications to his credit including three novels, five poetry collections, a short story collection, two manga, two histories about the Japanese Canadian Buddhist church, and two children's biographies. His latest books are Mysterious Dreams of the Dead (Anvil Press, Vancouver, 2020), a novel centring on the third generation of Japanese Canadians, and The Four Sufferings (Mawenzi House Publishers, Toronto 2020), a volume of poetry. He also maintains a monthly column in the Vancouver Bulletin Magazine.