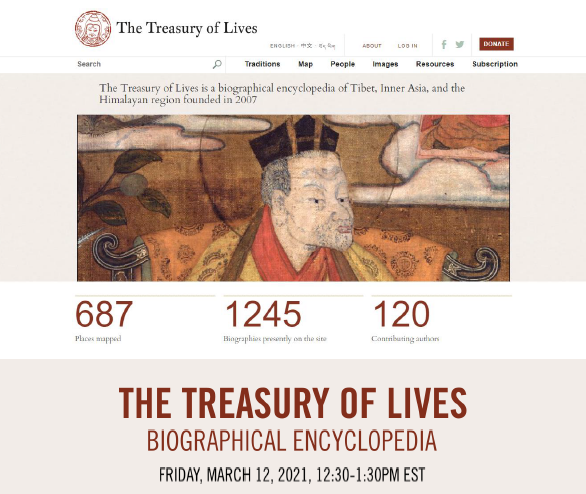 Presenters:  Dr. Alexander Gardner, Director and Editor in Chief; and Catherine Tsuji, Editor
Click here to watch the presentation on YouTube.
The Treasury of Lives is a biographical encyclopedia of Tibet, Inner Asia, and the Himalayan region. In development since 2007, the online resource provides accessible and well-researched biographies of notable scholars, masters, or leaders in traditional Himalayan and Inner Asian society and culture who are deceased and who were native to the region. Biographies are complemented by a range of associated data such as incarnation and monastic office lineages, social roles, and religious traditions, as well as a dynamic map and multiple timeline visualizations. To date, 120 authors have contributed 1245 biographies of people spanning the 7th through 21st centuries.  Nearly 700 places have been mapped. The database is searchable by BDRC ID, phonetic renderings and Wylie transliteration.
In this presentation, features of the site will be introduced with additional focus on subscriber resources, which include custom map and timeline tools, data exports, syllabi and an advanced search.
This event is co-hosted by the Cheng Yu Tung East Asian Library and the Robert H.N. Ho Family Foundation Centre for Buddhist Studies at the University of Toronto, and the C.V. Starr East Asian Library at Columbia University. Please contact frances.garrett@utoronto.ca with questions.
Join us on Zoom
Topic: Treasury of Lives Presentation
Time: Mar 12, 2021 12:30 PM Eastern Time (US and Canada)
Join Zoom Meeting
https://us02web.zoom.us/j/88670605142?pwd=VXl1T0VOWUxyMHZyNGIrUk9XaGc2U…
Meeting ID: 886 7060 5142
Passcode: Tc3pB0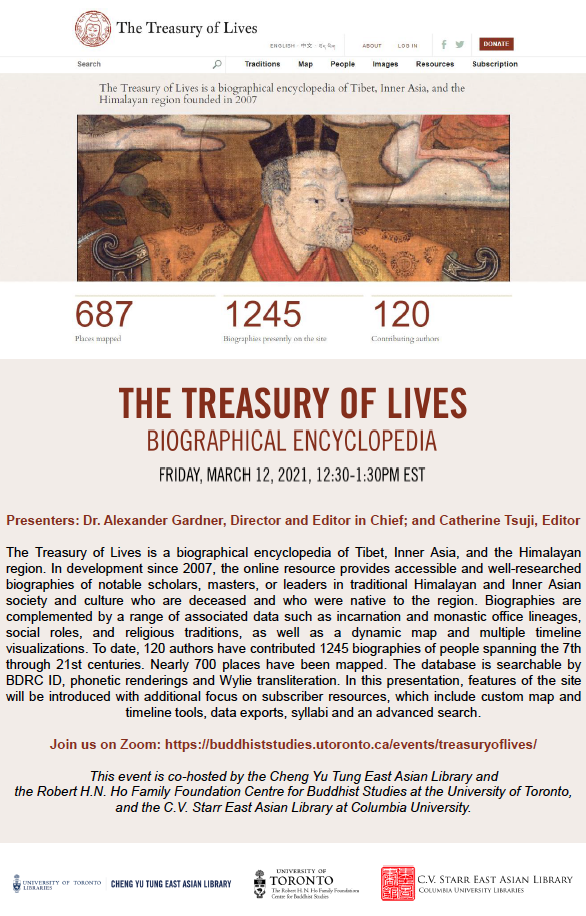 ---