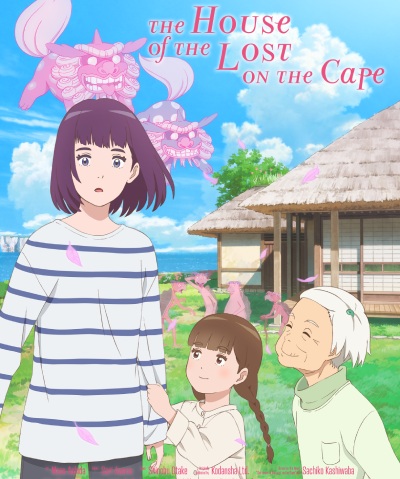 Sold Out - If you enjoy similar events, please follow us on Facebook or Twitter
Join us for a special screening of the new Japanese anime film The House of the Lost on the Cape (岬のマヨイガ) Misaki no mayoiga based on the original novel by Sachiko Kashiwaba (柏葉幸子) who will be at the book signing at 7:00 pm and the Q & A session following the screening.
The film directed by Shinya Kawatsura (川面真也) begins with a 17-year-old run-away Yui and 8-year-old Hiyori, who lost her family and her voice, have no place to go when they run into Kiwa, a strange old lady. She offers them a place to stay, in a slightly banged-up old house overlooking the sea, a Mayoiga. Despite joining Kiwa on a whim, the two girls find comfort in Mayoiga, a legendary house, said to look after lost travelers, and the warm hospitality of Kiwa. Both girls' damaged hearts begin to heal little by little. Until one day, a variety of strange beings which Kiwa calls "Fushigitto" begin popping up around the house. 
A heartwarming tale about nostalgia, kinship with a touch of magic! (IMDb, 2021)
Presented in Japanese with English subtitles. Doors open / book signing at 7:00 pm. Film screening at 7:30 pm (running time 108 min). RSVP is required
Co-presented and generously supported by: The Japan Foundation, Toronto and the Cheng Yu Tung East Asian Library at the University of Toronto Libraries.