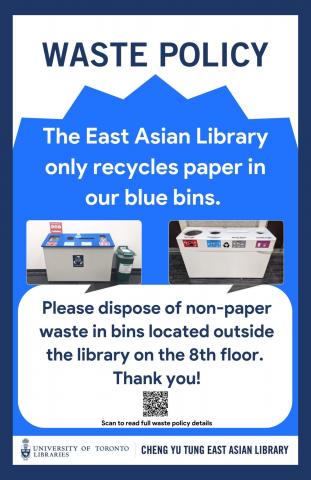 The Cheng Yu Tung East Asian Library is home to a numerous special collections, including rare books, which require special care and attention for maintaining a clean environment. Therefore, starting May 2023, the library is introducing a new waste disposal program to ensure the cleanliness of our space and to protect our special collections. 
After a successful pilot project from February to April 2023, we have decided to implement this program on a long-term basis. Click here to read the East Asian Library's Waste Disposal Program.
Our goals for the new program include:
Adhering to our current EAL Food & Drink Policy (no food and covered drinks only).
Ensuring that only paper is disposed of in our recycling blue bins.
Disposing of all non-paper waste in the bins located outside the library near the elevators and washrooms on the 8th floor. 
We appreciate your cooperation in helping us achieve our waste reduction goals and in protecting our valuable collections.
Thank you,
Cheng Yu Tung East Asian Library 
Add to Digital Signage
Off