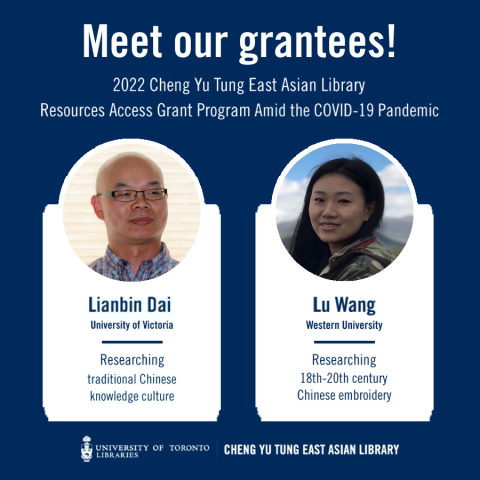 The Cheng Yu Tung East Asian Library is excited to introduce Lianbin Dai and Lu Wang as our 2022 Resources Access Grant Program visiting scholars! For one month of their choosing during the period of May to July 2022, the East Asian Library will support the research projects of our grantees through access to the electronic resources available in our collections.
Lianbin DAI (D. Phil, Oxford, 2013) is a Sinologist specializing in cultural and social history of late imperial China. He currently is a lecturer of Chinese Studies in the Department of Pacific and Asian Studies at the University of Victoria (Victoria, BC). Interested in issues of traditional Chinese knowledge culture, Dai is finalizing his book manuscript Learning to Be Learned: Neo-Confucian Knowledge Culture in Late Imperial China.
Lu WANG is a Ph.D. candidate affiliated with the Department of History at Western University (London, ON). Her research interests are centred around textile history, material culture, and the application of digital research methods to Chinese studies. In her dissertation, she is studying Chinese embroidery in the late Qing and Republican period to highlight the technical excellence of embroidery in various contexts.
A warm congratulations to our scholars!
Visit our Resources Access Grant page to learn more about our grantees and the Resources Access Grant Program.