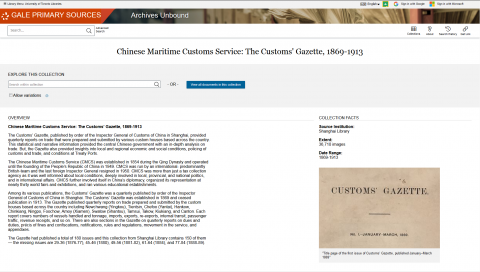 The Chinese Maritime Customs Service Publications Archive is now available to the U of T community.
This e-resource provides a collection of studies on Chinese trade and economy from 1854 to 1949. The publications are categorized into six series: Statistical Series, Special Series, Miscellaneous Series, Service Series, Office Series, and Inspectorate Series. The Statistical Series, largest output of the collection, incorporate Import and Export Trade in China, Foreign Trade of China, Decennial Reports of the trade, Industries, and etc. Some of the sources are bilingual in English and Chinese.
Of interest to scholars in foreign trade, Chinese history, foreign affairs, and economics.