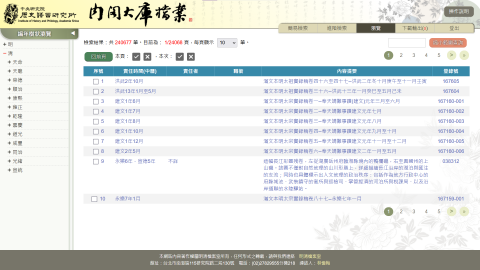 The Cheng Yu Tung East Asian Library is excited to share that the Grand Secretariat Archives database is now available to the University of Toronto community through the University of Toronto Libraries.
The Grand Secretariat Archives database contains documents originally housed in the storerooms of the Grand Secretariat of the Qing dynasty (1644-1912). These documents have been kept at the Institute of History and Philology of Academia Sinica since 1949. The entire archive contains about 310,000 items, with over 4,000 documents from the Ming dynasty (1368-1644) and 300,000 from the Qing. Encompassing a wide variety of subjects, the documents include imperial decrees, edicts, memorials, Keju examination papers, documents of the Grand Secretariat Office, and more.
This archival collection is an invaluable resource for scholars interested in Chinese Studies and East Asian Studies.