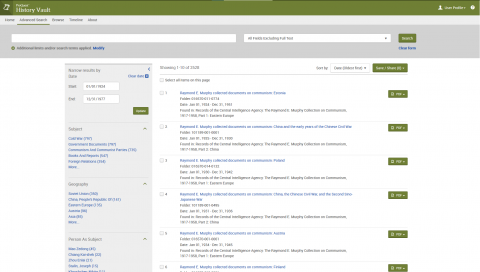 The University of Toronto community can now access the History Vault: CIA Cold War Research Reports and Records on Communism in China and Eastern Europe through the University of Toronto Libraries.
This collection consists of two major series of records: CIA Research Reports from 1946-1947 and records collected by Raymond Murphy on communism in China and Eastern Europe from 1917-1958. This collection deals with international questions and biographical reports, offering profiles of relatively unknown leaders. The records provide information on war recovery efforts, international aid, formation of countries, and information on the Chinese Communist Party.
Of interest to scholars in foreign relations, public policy, political science, Eastern Europe history, and Chinese history.