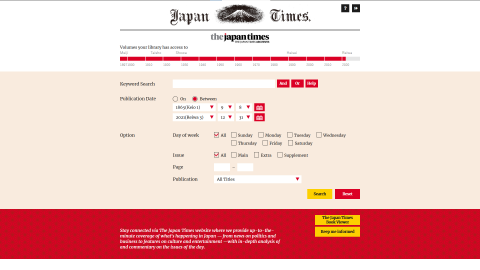 The Cheng Yu Tung East Asian Library is excited to share that the University of Toronto community can now access the Japan Times Digital Archive through the University of Toronto Libraries.
The Japan Times Digital Archive includes digitized copies of the Japan Times, Meiji Restoration, and the Japan Advertiser, spanning from 1856 to the present. The Japan Times has provided English coverage on the people, places, and events in Japan. The independent newspaper is considered a rare media resource during the Meiji and Taishō eras. Much of the content published in the Japan Times was not published in the Japanese-language press.
Of interest to scholars in Japanese history and studies, foreign affairs, and political science.
Add to Digital Signage
Off