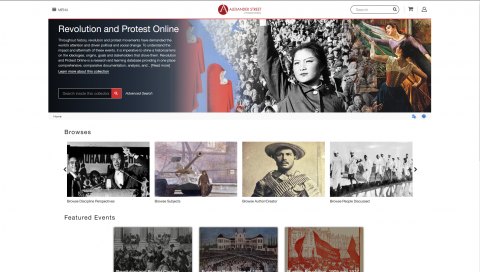 The U of T community can now access the Revolution and Protest Online Collection.
This collection is a research and learning database that provides comparative documentation, analysis, and interpretation of political processes through the lens of revolutions, protests, resistance, and social movements. The collection includes videos, printed materials, and images. The collection represents a variety of time periods, regions, and topics including: the American Revolution of 1776; the Arab Spring; the Chinese Civil War, 1925-1949; the Civil Rights Movement; the Cuban Revolutions of 1848 and 1953; the Hungarian Revolution of 1956; the Iranian Revolutions of 1953 & 1979; and the Russian Revolutions of 1905 & 1917.
Of interest to scholars in History, Political Science, Sociology, Social Justice, Women and Gender Studies, and Labour Studies.