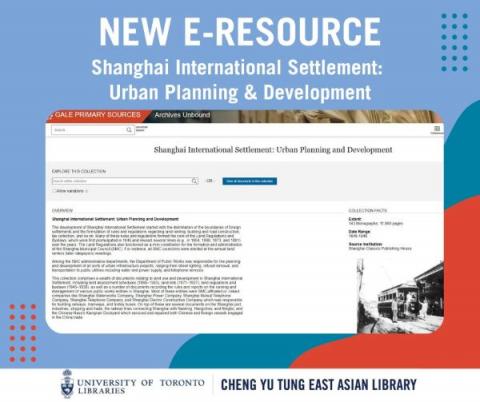 The Cheng Yu Tung East Asian Library is pleased to share that the University of Toronto community can now access the e-resource Shanghai International Settlement: Urban Planning & Development through the University of Toronto Libraries.  
Shanghai International Settlement: Urban Planning and Development, 1845–1948 collection includes a variety of documents relating to land use and development in the Shanghai International Settlement, including land assessment schedules (1869–1933), land lists (1871–1937), land regulations and bylaws (1845–1930), as well as a many documents recording the rules and reports on the running and management of various public works entities in Shanghai.
Of interest to scholars in urban planning, architecture, public policy, sociology, Chinese history and Chinese studies, and geography.
Add to Digital Signage
Off