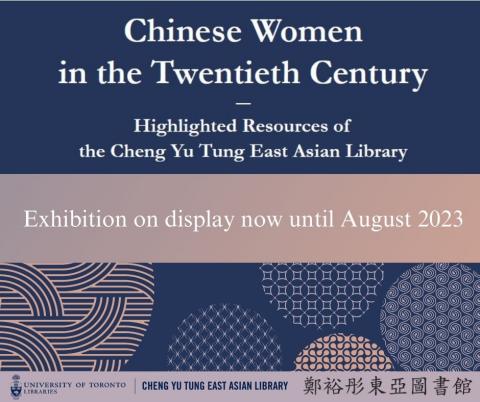 The Cheng Yu Tung East Asian Library is happy to announce the exhibit, Chinese Women in the Twentieth Century (近代中国女性) is now on display until August 2023. The exhibit highlights resources in our collection and explores the relationship of gender alongside modern nation-building in China as important issues relevant to scholarly discussion. 
As China's urbanization accelerated, women's pursuit of their needs and ideas outside of the domestic sphere was seen as a symbol of social liberation. Throughout the twentieth century, the push for women's liberation continued, and women gradually gained more rights and opportunities. Nevertheless, the tension between traditional values and modernization has continued to shape gender relations in China today.
Exhibition Duration: April - August 2023
Location: Cheng Yu Tung East Asian Library, 130 St George Street, 8th Floor of Robarts Library, Room 8049 (near the East Asian Library Current Resource Centre) 
Free admission, open to current students, faculty, and staff, external researchers, associate members, and alumni with paid privileges, as well as members of the University of Toronto School community.
For questions, email ref.eal@utoronto.ca or ask the Loan Service desk for assistance.
Add to Digital Signage
Off