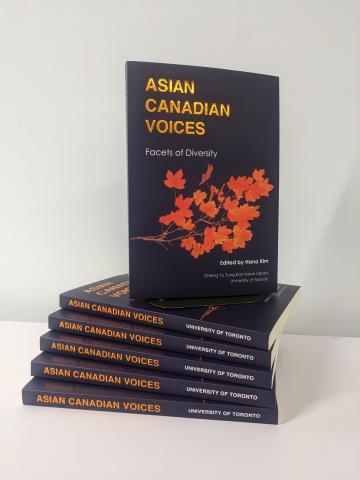 Published by Cheng Yu Tung East Asian Library, University of Toronto / 2022  
Edited by Hana Kim   
With contributions from King Wong, Adrienne S. Chan, Aminur Rahim, Denise Chong, Janet Lumb, Kuilan Liu, Irene Chu, Arlene Chan, Terry Watada, Josephine Pui-Hing Wong, and Maria Krisel Abulencia. 
Softcover (ISBN: 978-0-7727-1126-7) and e-book (ISBN: 978-0-7727-1128-1) formats available. 
It is with great joy and honour to announce the publication of Asian Canadian Voices: Facets of Diversity is now available for you to read!  
We are delighted to bring together ten perspectives from diverse fields of research to share their remarkable stories, reflections and insights relating to Asian Canadian heritage and experience. The collaborative effort of many gracious contributors, and the symbiotic dialogues from our significant East Asian Library lecture series during 2012-2014 entitled "Tides on Our Pacific Shore: Celebrating Asian Canadian Heritage" and "Asian Canadian Conference: Engaging Asian Canadians," which focused on strengthening community and facilitation of academic research on the topic of Asian Canadians, sparked the inspiration for this publication. 
"The present publication includes remarkable and touching stories from various Asian Canadians in different fields. It is the sincere hope of the Cheng Yu Tung East Asian Library that this book will honour and celebrate the past and present contributions of Asian Canadians on their two-century journey. These diverse and inspiring stories will also give a moment to readers to reflect on surging anti-Asian racism and all types of racial discrimination and violence."   - From the Introduction, Hana Kim 
Visit our Publication Page for full details.  
Access the e-book format on the University of Toronto's online research repository, TSpace. Click here to read the e-book of Asian Canadian Voices: Facets of Diversity (ISBN: 978-0-7727-1128-1). 
Stay tuned for more details about our Book Launch in 2023!   
Add to Digital Signage
Off