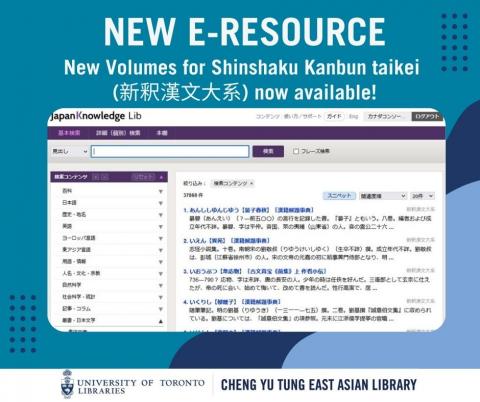 The Cheng Yu Tung East Asian Library is excited to share that the University of Toronto community can now access 120 + 1 newly translated volumes of 新釈漢文大系 Shinshaku Kanbun taikei (Meiji Shoin), which has been added to the JapanKnowledge Database through the University of Toronto Libraries. 
To access this resource, please visit the following permanent link in our catalogue: JapanKnowledge Lib = ジャパンナレッジ Lib. *Note: Shinshaku Kanbun taikei (新釈漢文大系 ) is located under the 叢書・日本文学 Sosho, Nihon bungaku category.
Abstract: 新釈漢文大系 Shinshaku Kambun Taikei (an Anthology of New Commentaries on Chinese Classics, 120 volumes* plus one separate volume) was completed 58 years after the publication of the first volume in May 1960. The anthology has been compiled with complete translations of a wide range of representative Chinese classics, which form the foundation of Japanese culture, such as the Four Books and Five Classics of Confucianism, "Historical Records," "Bai Shi Wen Ji," as well as a thorough addition of the "Chinese Poetry of Japan" and the "Dictionary of Commentaries on Chinese Books."  
Painstakingly proofed original text and specially written commentaries are shown in the upper and lower halves of the screen, along with comprehensive explanations, glosses, annotations, and a complete index. Authorities in each field have incorporated their latest research into the commentaries. 
In addition to the roughly 58,000 pages of the printed version of the anthology in PDF format, the JapanKnowledge edition also contains the text data of the index words. Allowing for searches by book title, or a full text search, which enables access to the index content for personal names, place names, phrases, etc. 
Please note that Volume 36 "Sonshi and Goshi" ("Sunzi and Wuzi") are not included in the JapanKnowledge edition. 
Add to Digital Signage
Off