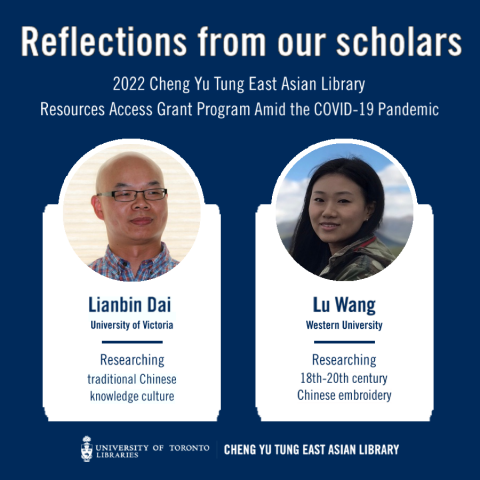 The Cheng Yu Tung East Asian Library extends sincere congratulations once more to our 2022 Resources Access Grant Program visiting scholars!
During July this year, Lianbin Dai, lecturer of Chinese Studies in the Department of Pacific and Asian Studies at the University of Victoria, and Lu Wang, Ph.D. candidate with the Department of History at Western University (London, ON), were granted access to resources available from the East Asian Library to support their current research projects.
Through the grant program, Dai located articles and books published in Japan and Taiwan over the last decade to revise three chapters of his manuscript on Neo-Confucian knowledge culture during the Ming dynasty. Examining the Qing and Republican periods, Wang collected primary and secondary sources on the history of Chinese embroidery for her dissertation.
Visit our Resources Access Grant page for more details about Dai's and Wang's research findings and thoughts on the program.
Add to Digital Signage
Off