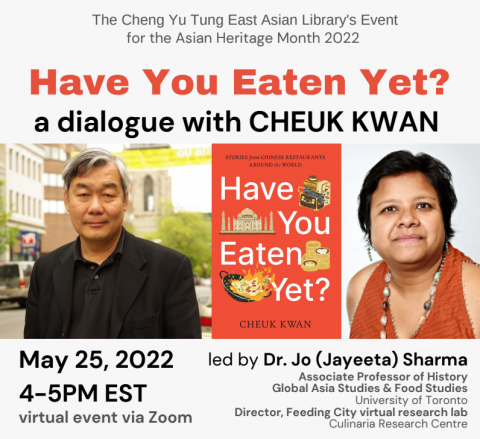 On May 25, 2022, the Cheng Yu Tung East Asian Library hosted "Have You Eaten Yet? A dialogue with CHEUK KWAN" in celebration of Asian Heritage Month 2022 and filmmaker and writer, Cheuk Kwan's new book, Have You Eaten Yet? The book draws out a global narrative of the Chinese diaspora by linking together personal stories of chefs, entrepreneurs, labourers and dreamers who populate Chinese kitchens worldwide.
A recording of the event is now available for your viewing. Captions are available in English.
The dialogue was led by Dr. Jo (Jayeeta) Sharma, Associate Professor of History, Global Asia Studies & Food Studies at the University of Toronto, and Director of the Feeding City virtual research lab at the Culinaria Research Centre.