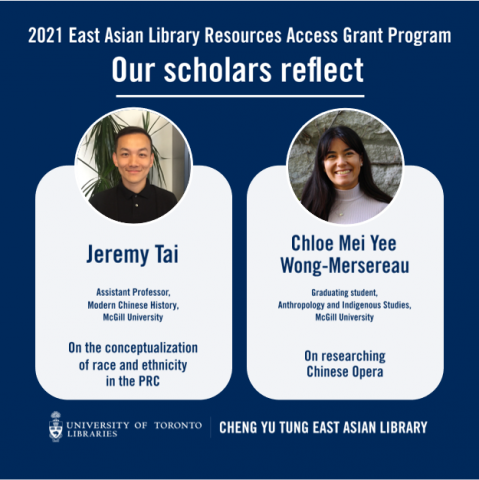 The Cheng Yu Tung East Asian Library would like to congratulate our 2021 Resource Access Grant Program visiting scholars once more! 
This March, Professor Jeremy Tai of McGill University and graduating student Chloe Mei Yee Wong-Mersereau of McGill University were granted access to resources available in the East Asian Library collection to support their current research projects. 
Researching conceptualizations of race and ethnicity in the People's Republic of China, Tai spent the month examining historical definitions and discussions of race (zhongzu) and ethnicity (minzu) as well as the history of ethnic policy in the PRC. Wong-Mersereau examined research on Chinese opera in both China and the West, focusing her work on performance and soundscapes in the diaspora.
Visit our Resources Access Grant page for more details about Tai's and Wong-Mersereau's research findings and thoughts on the program.