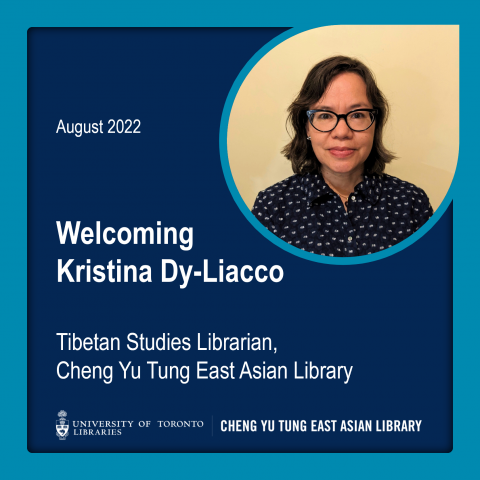 The Cheng Yu Tung East Asian Library is pleased to inform our community that Kristina Dy-Liacco has been appointed as the Tibetan Studies Librarian of the C.V. Starr East Asian Library at Columbia University, and under the terms of the international cooperation agreement between the University of Toronto Libraries and the Columbia University Libraries, Kristina will also be leading the work of coordinating Tibetan-language acquisitions and cataloguing at both institutions, and will provide research-support services to our U of T faculty and students.
Kristina has 20 years of experience in librarianship related to Tibetan Studies, combined with her educational background in both library science (MLS from the University of Wisconsin-Madison) and Tibetan Studies (MA from Indiana University). She previously worked at the Latse Library, a prominent Tibetan research library located in New York City, for 18 years. She is also a co-founder of the Latse Project, a non-profit organization dedicated to promoting Tibetan language use and literacy, the exchange of ideas, and facilitating access to knowledge for Tibetan and Tibetan studies communities by the creation and sharing of resources.
We are thrilled to have Kristina on board to lead the ongoing growth of our Tibetan Collection and services.
Hana Kim,
Director of the Cheng Yu Tung East Asian Library
Photo courtesy of Kristina Dy-Liacco