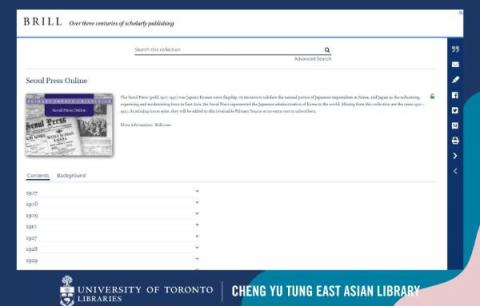 The Cheng Yu Tung East Asian Library is excited to share that the University of Toronto community can now access Seoul Press Online collection 1907-1909 & 1928-1937 through the University of Toronto Library.  
The Seoul Press Online collection includes issues of the newspaper from 1907-1909 and 1928-1937. The Seoul Press was Japan's Korean news flagship and attempted to validate Japan as the redeeming, organizing, and modernizing force in East Asia by representing the Japanese administration of Korea to the world.  
Of interest to scholars in East Asian studies, Japanese studies, Korean studies, political science, and foreign policy. 
Add to Digital Signage
Off